MyLaps X2 Transponder- Rechargeable
The X2 is the new generation transponder replacing the old AMB/classic transponders. You can use X2 transponders on any track where you used the old AMB transponder. X2 is compatible with MYLAPS Timing Systems.
The X2 transponder requires a subscription. The price includes hardware and a subscription of 1 or 5 years. After this initial period the subscription can be renewed.
Features
Unlimited warranty during active subscription
Compatible with all MYLAPS (AMB) Timing Systems
The most accurate technology
Improved battery charging (4x faster)
All your results in personal profile
The X2 Racer Pack consists of the brand new X2 Transponder, the X2 RaceKey and everything you need to install and get it working.
What it comes with:
X2 Transponder & X2 Transponder Holder - Comes standard as rechargeable, Direct Power upgrade available.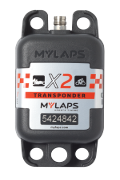 X2 RaceKey - The X2 RaceKey is here to help you manage your subscription and charge your transponder.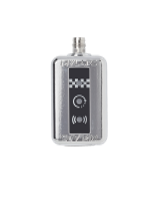 Specifications:
| | |
| --- | --- |
| Compatible with:  | MYLAPS Car Timing System and X2 System   |
| Dimensions: | Approx. 98 x 52 x 23 mm ( 3.9 x 2 x 1 in.) |
| Weight: | 120 gram (0,26 lb) |
| Housing: | Waterproof IP67 |
| Temperature range: | 0-60°C (32-140°F) |
| Transponder ID: | Unique 7 digit number |
| Input voltage: | 5-17VDC |
| Power consumption: | max. 60mA @ 12VDC |
| Battery back up: | Max. 5 days |
| Max. speed: | 260 km/h (161 mph) |
| Transponder position: | Max. height to the track 120 cm (4 ft.) |
| Charging time: | 4 hours |
Get ready to race
Make sure you follow these steps before you head for the track:
Log into your MYLAPS account or create one
Register your transponder
Activate your subscription
More information about activating and installation in the quick start guide.
X2 Subscriptions
X2 Transponders come with a subscription for 1, 2 or 5 years. When the subscription ends, you can renew it with another period: choose the subscription that fits your racing career best (additional subscriptions will be available soon).
Introducing the X2 RaceKey
New with X2 is the X2 RaceKey. The RaceKey helps you activate your transponder and manage your subscription.
When you use the transponder as a rechargeable one, the X2 RaceKey is used to charge it. X2 features supercharging: it will fully charge in only 4 hours.
With the Direct Power upgrade, the LED lights on the RaceKey show various notifications such as battery and subscription statuses.
Video tutorial
For a tutorial video on how to register your X2 Transponder and activate it, visit one of the links below: